In August 2016, the brand logo was renewed to the Aience logo mark created by combining a brand symbol to which an image of the company being more active globally was added and a logo type. The manual can be downloaded from this page. Please use it as a manual for further improving the brand image of Aience.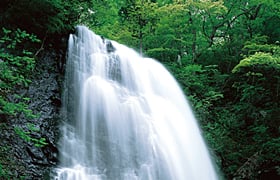 Aience looks at environments through water purification.
Aience aims to create an earth-friendly environment with cutting-edge technology.
Aience's bio-environment improvement system recovers an important environment being destroyed from a variety of causes by making use of its proprietary aeration system and natural microorganisms. From the development of this cutting-edge technology to now, we have made numerous achievements and accumulated rich expertise to realize excellent total engineering capability. As a water purification professional, we are responding to decontamination in a wide variety of fields and helping to construct a sustainable society.
The conditions for water treatment Aience advocates are...

The word "purify" is written as "浄化" in kanji, having the character "浄 (cleanse)", and this character can be further divided into two elements - "水 (water)" and "争 (battle)".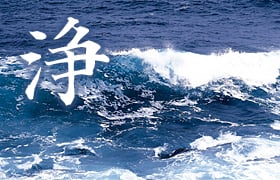 Water masses collide and fight with each in such places as the basin of a waterfall into which water runs down and the water's edge where strong waves move in. Common to these areas are an abundant amount of dissolved oxygen and the electrical effect of generating negative ions by impact, both of which have a very high purification capability. Reproducing this purification power of nature through aeration, Aience responds to purification needs for various types of contamination.

Dissolved oxygen for activating microorganisms is generated.
Microscopic bubbles are generated by a special diffusion method to increase the oxygen concentration in a tank. Oxygen is spread over to support microorganisms for aerobic respiration and maximize their metabolic and resolving capabilities.
Microorganism oxygen consumption

Assuming that microorganisms and a mouse have the same weight, surprisingly, microorganisms consume the amount of oxygen 50 to 150 times the amount of oxygen a mouse consumes. For that reason, the greater load water has, more oxygen must be supplied because the amount of organic material to be resolved is greater.
Difference in metabolism and types of microorganisms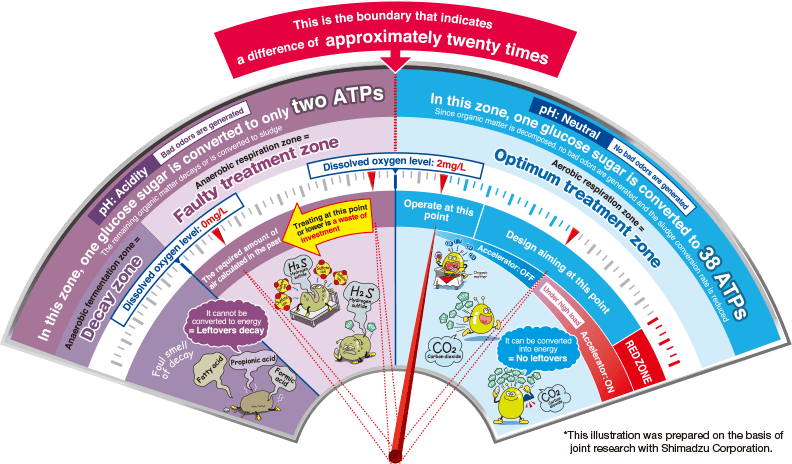 When there is a sufficient volume of oxygen, microorganisms perform aerobic respiration metabolism like humans by breathing oxygen and releasing carbon dioxide. However, if the volume of oxygen becomes low, the process turns into anaerobic respiration metabolism due to sulfate ions, and eventually generates such a by-product as hydrogen sulfide. Moreover, when sulfate ions are consumed completely, the metabolism changes from aerobic respiration to anaerobic respiration, generating acid substances that cause rotting odors such as acetic acid and propionic acid. And, pH becomes lower for that reason.
Industrial wastewater treatment business
Food processing wastewater treatment
Mineral-containing wastewater treatment
Other wastewater treatment
Circulating water purification and recycling business
Circulating water treatment
Paint circulating water treatment
Water paint circulating water treatment
Paint booth circulating water treatment
Drainage pit putrefaction prevention business
Drainage pit putrefaction prevention
Grease trap
Ground water treatment business
Deodorization business
Industrial exhaust gas treatment
Restaurant exhaust gas treatment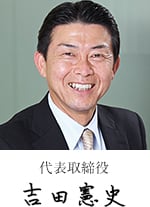 President and CEO
Norifumi Yoshida
Management philosophy
By recovering environments being destroyed through bioremediation by microorganisms, Aience will take corporate responsibility as an enterprise that realizes creative individuals and creates cutting-edge technology to build a bright and beautiful future for children.
Fundamental Policies
Technology is born by working hard and racking one's brains. Don't be too proud, arrogant, hasty, weary, or defeated, and always have feelings of appreciation. We must try to become a company loved by everyone.
Company name
Aience Inc.
Head office
Kowa Edobori Bldg. 3F 1 Chome-21-7 Edobori, Nishi-ku, Osaka, 550-0002 Japan
TEL: +81-6-6225-2323
FAX: +81-6-6225-2552
Kobe office
7-chome-3-3 Kitanagasadori Chuo-ku, Kobe, Hyogo 650-0012
Tokyo office
Win Aoyama 942 2-chome−2−15 Minamiaoyama, Minato-ku, Tokyo, 107-0062 Japan
TEL: +81-3-6869-9189
FAX: +81-3-6893-3931
Capital
98 million yen
Bankers

Himeji Shinkin Bank
Sumitomo Mitsui Banking Corporation
The Hyakujushi Bank, Ltd.

Executives

President and CEO Norifumi Yoshida

Director Takuya Tomozawa

Auditor Keiichi Kikui

Date established:
October 24, 2000
Major dealers

Asahi Kasei Advance Corporation
Saraya Environmental Design Co., Ltd.
San Esu Industry
Tokyo Sangyo Co., Ltd.
Nikko Co., Ltd.
Moritani & Co., Ltd.
Nippon Air Conditioning Services Co., Ltd.
Hitachi Plant Services Co., Ltd.
Fuji Electric Co., Ltd.
Ray Corporation

Major delivery destinations

Oji Paper Co., Ltd.
Caterpillar (Japan)
Kyokuto Kaihatsu Kogyo Co., Ltd.
Coopfoods. Co., Ltd.
Konan Utility Co., Ltd.
Komatsu Ltd.
Shimadzu Corporation
Shimanaka Co., Ltd.
Suzuki Motor Corporation
Daihatsu Motor Co., Ltd.
Toyota Industries Corporation
Toyota Motor Corporation
Toyota Motor East Japan, Inc.
Nikko Co., Ltd.
Nissan Shatai Co., Ltd.
Hankyu Hanshin Motor Technology Co., Ltd.
Hotel Okura Kobe Co., Ltd.
Honda Motor Co., Ltd.
Mitsubishi Electric Corporation
Mitsubishi Fuso Truck and Bus Corporation
Mazda Motor Corporation
Yamaha Motor Co., Ltd.